Bush Dance Group - Canberra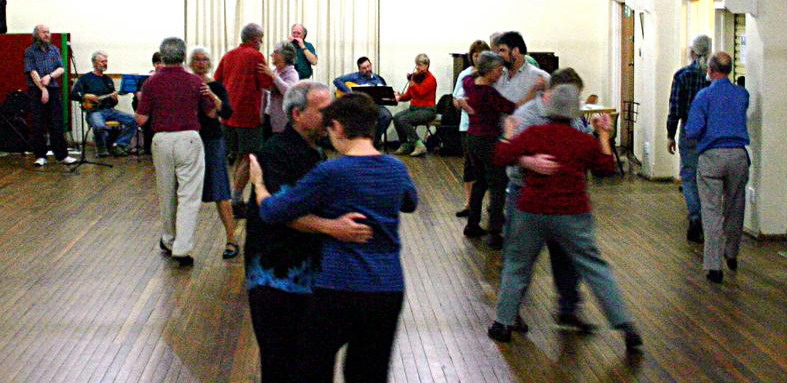 Bush dancing is Australian traditional social dancing. It's fun and friendly and new people are always welcome. All dances are taught and there is no need to bring a partner.
We have workshops on most Monday evenings and have a Saturday night dance in most months, usually on the frst Saturday - check the dance calendar.
What dances do we do?
There is lots of variety in the dances. We do longways sets (such as Strip the Willow and Virginia Reel), quadrilles (such as Cumberland Square 8 and The Lancers), couples dances (such as Pride of Erin and Brown Jug Polka), around the room dances (such as The Dashing White Sergeant and Margaret's Waltz), and many others.
What should I wear?
This is one question that is answered at this dance FAQ (yes, it's a contra dance FAQ, but the info is equally applicable to bush dancing). I'll just add that you should wear flat, comfortable shoes and please, no hand cream, perfume or after shave.
The music
We dance to live music, the Bush Dance Group Band led by Bob Hodgson. This is an open stage so anyone is welcome to join in. Because of this the line up is wonderfully varied and includes violins, accordions, guitars, flutes, harmonicas and penny whistles. If you would like to be part of the band, contact Bob at (02) 6255 2189.
The callers
The main caller is Peter Foster, who has been calling for Woolies Home Band (and others) for over 15 years. It is an open microphone, so anyone who wishes to call a dance is welcome to do so. If you would like to give it a go, contact me at pfoster@pcug.org.au
For some useful info about calling, check out Colin Hume's Callers Workshop.
Hope to see you sometime!
Any problems with this page, email the webmaster at pfoster@pcug.org.au
Back to Peter Foster's home page