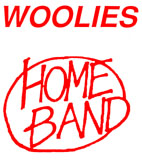 Stop Press
Our group has dwindled to the point that we are no longer viable. So after 25 years we are no more. But the Tuesday group (see link below) is still going strong, so try them instead
Our music group gets together once a week to play mostly Irish and Scottish traditional dance music. There is a wide variety of instruments, from accordions to mandolins to flutes to concertinas to harmonicas to...
We meet in each others houses on Wednesday evenings, from 8 o'clock.
For Debruary we are meeting at Margaret's place in Weetangera.
The group is based in Canberra. We play for bush dances for various occasions, such as weddings, parties and the regular bush dances run by the Monaro Folk Society. Our favourite venue is the Yarralumla Woolshed, which still smells like sheep despite being decommissioned as a shearing shed in 1965. In honour of this woolshed, we have named our group "Woolies Home Band".
The group has a reasonably wide repertoire, which we play with varying degrees of competence and enthusiasm. The tunes include the following:
Tobins Jig / Blackthorn Stick / Rakes of Kildare
Coleraine / Swallowtail / Jump at the Sun
Dunphys / Off To California / Boys of Bluehill / Harvest Home
Nancy / Newcastle / Portsmouth
Rosin the Bow / Bonnie Dundee / Banks of the Allan
Scotland the Brave / Battle of Waterloo / Thistle of Scotland
Dark Island / Glencoe / Mist Covered Mountains
Muckin' of Geordies Byre / Cock of the North / A Hundred Pipers
Orange and Blue / Castles in the Air / Road to the Isles
Arkansas Traveller / Over the Waterfall
Cumberland Reel / Bells Favourite / Liberty Bell
Margaret's Waltz / Midnight on the Water
Levi Jackson Rag / Five Foot Two
Athol Highlanders / Jig of Slurs
Planxty Irwin / Fanny Power
Kingdom Coming / Battle Cry of Freedom / Marching Through Georgia
...and many others.
Any enquiries to Peter Foster, (02) 6231 2245 (h) or email pfoster@pcug.org.au
There is also the Tuesday Night Music Group.
Back to home page